Missed opportunities costly for Rangers in opener
Story by Jim Horvath
Photos and video by Larry Bennet
Throughout the first quarter and a half of football, Lakewood was playing Medina on relatively even terms. The Bees, despite having an early 14-0 lead, were shooting themselves in the foot with a variety of mistakes and penalties.
But when opportunity knocked, the Rangers were unable to answer. And it cost them big time.
The Battling Bees, behind the rushing performance of Jimmy Daw, got their act together and began to generate opportunities of their own. When the smoke had cleared, Medina had come away with a convincing 56-13 win over the Rangers in the 2015 season opener Friday night at Kenneth Dukes Stadium.
Daw, the Bees' 6-4 junior running back, was held in check throughout the first quarter. But from that point on, he was a one-man wrecking crew. He ran for 116 yards and two touchdowns in the first half alone and wound up with 205 yards on just 15 carries.
Oh, and he added a third touchdown from 57 yards out in the third quarter that gave Medina a commanding 42-7 lead.
"I think the game went exactly the way they drew it up, and that's how it ended up," said Lakewood head coach Mike Ribar, whose team was down 21-0 before Michael Goolsby's electrifying 98-yard kickoff return for a touchdown with 4:14 left in the first half.
Watch Goolsby's big return here courtesy of our friends at Lakewood Football Reports.
That cut the Medina lead to 21-7. But on the Bee's first play from scrimmage, Daw broke through the Ranger defense for a 62-yard touchdown run. A 35-yard touchdown pass from junior quarterback John Curtis to sophomore Will Mercurio with 45 seconds left made it 35-7 at the half.
"We had our chances early on, but we didn't execute a few plays," Ribar said. "Even at halftime, We told the guys if they take 10 plays in that first half and look at them, those are the ones that made the difference in this game.
"There were the two touchdown passes on their end, then Michael Goolsby's return which keeps us in the game. Then on the next play, they're gone. The guy breaks it for a touchdown. That was a back breaker.
"Your get a score and hold them, and you're right back in it. Instead, they get a big run and they're right back up by 21," he said.
Curtis, making his first varsity start, had a scoring tosses of 21 and 19 yards to senior Jordan Fultz in the first quarter. That surge helped the Bees shake off some early mistakes and grab the 14-0 lead.
The second score came after the Bees had stripped Ranger quarterback Jack Witri of the ball at the Lakewood 22-yard line. Still, the Rangers bounced right back as Goolsby ran the kickoff back to the Medina 23.
Penalties, however, helped stall the drive, with Goolsby stopped short on a fourth down and one from the Bees' 15.
Medina made it 21-0 as Daw scored from six yards out. A personal foul call on Lakewood had given the home team the ball at the Ranger 38, and Daw did the rest on just four carries.
"Jimmy Daw is Jimmy Daw," said Medina head coach Dan Sutherland. "You know what you're going to get with him.
"It's great when you best player is also your hardest worker. That's what Jimmy Daw is. He's a great kid. He doesn't say much, but he busts his butt in practice. That's why he's successful on Friday nights.
"He's a great leader and a great captain for us. He's got a really great future in the game," he added.
Goolsby brought the Rangers back to life on the kickoff. He took the ball at the two, got through the initial Bees surge and broke down the Lakewood sideline for the score. But Daw put Medina back in control with his 62-yarder to push the score back out to 28-7.
Lakewood did not score again until early in the fourth quarter. That's when Witri found Goolsby open down the left sideline for a 55-yard touchdown with 10:43 left in the game. But the Rangers were unable to get much of a ground game going, with junior running back Quentin Palmer held to 33 yards on 16 carries, unofficially.
"Goolsby's fun to watch, and Palmer runs hard at all times," Ribar said. "But tonight, we could not get the run game going.
"We're hurting up front a little bit with injuries. Our center is out and our right tackle is out. We had to move some people around, so we were playing with a mix-and-match line. They're doing OK. They're fighting, they're battling.
"But we're not running our big dogs right now," he said.
Curtis finished his night completing 11 of 16 passes for 140 yards and three touchdowns with just one interception. That came in the second quarter when Ranger senior Adam Giffels picked him off at the Lakewood 20.
That interception, along with 45 yards in penalties on the Bees in the first quarter, helped keep Lakewood in the game.
"I'm disappointed with the way we started tonight. We were sloppy," said Sutherland.
"People are going to see the score and say 'wow, that's domination.' We didn't play our best football. We played much better in our scrimmage last week. Tonight, we were sloppy with poor tackling, penalties and the kickoff, and that will all be addressed.
"But you know what? Our kids picked it up in the second half, and that was nice to see. They didn't back down, they kept their foot on the gas pedal. Maybe some of it was first-game jitters, because we had a lot of new starters out here tonight.
"But we're going to fix those problems and get better," he said.
Sophomore Dylan Fultz scored on a 40-yard run with 9:03 left in the game, while junior Bryce Moran tacked on a 20-yard scoring run with 3:13 remaining to close out the scoring for the Bees.
Medina will next play Kenston, a 6-3 winner at Amherst Friday night. Lakewood will hope to regroup before beginning their first season in the Southwestern Conference at home against Berea-Midpark.
The defending SWC champions got off to an impressive start Friday night with a 41-21 win over Bedford.
"I thought we played right with them in the first quarter," Ribar said. "I was happy with that.
"I don't think we quit, but we were playing short-handed and got worn down a bit. We'll fix sone things, and hopefully get a couple of those guys back. I'll tell you right now, I don't think we're going to be down.
"I think we'll come back and play a good football game next Friday at home against Berea-Midpark. I really do," he added.
Southwestern Conference (Non-Conference Games)
Avon 41, Strongsville 24
Berea-Midpark 41, Bedford 21
Elyria 31, Avon Lake 7
Midview 28, Lorain 0
North Olmsted 34, Valley Forge 18
North Ridgeville 20, North Royalton 13
Olmsted Falls 31, Parma 28 (Double Overtime)
Eastlake North 48, Westlake 45
Next Friday Night's SWC Games
Avon Lake at Avon
North Ridgeville at Amherst
Berea-Midaprk at Lakewood
North Olmsted at Midview
Olmsted Falls at Westlake
Follow us on Twitter @BeAFanatic and be sure to check out and like our Facebook page: BeAFanatic.com.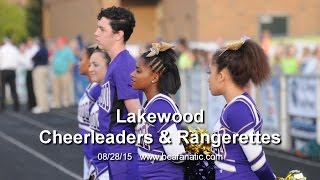 .
© Copyright 2010 - 2019 BeAFanatic.com All Rights Reserved.