Epps erupts, Titans down Rangers in SWC opener
Story by Jim Horvath
Photos and video by Larry Bennet
Despite key mistakes early on, the Lakewood Rangers were right where they wanted to be Friday night against defending Southwestern Conference champion Berea-Midpark. Down 13-7, they were controlling the tempo and slowing down the Titans' potent offense.
But as the game moved along, they could find no answer for Shawn Epps.
Epps, Berea-Midpark's senior tailback, went off for 120 yards in the half and helped ignite a 21-0 Titans run. When it was all said and done, Epps and the Titans had earned a 34-13 win over the Rangers in the SWC opener for both teams at Lakewood Stadium.
The Titans' 5-9, 210 sparkplug, who finished with 149 yards on 16 carries, got untracked late in the first quarter with runs of seven, 15 and 10 yards up the middle. He added a pair of 11-yard runs early in the second quarter as the visitors moved down to the Lakewood 17.
A Michael Goolsby interception near the goal line ended the threat, but the Titans had found the Rangers' weak spot.
"What we try to do is predict what's going to work, and then it's one of those feel things out type of things," said Berea-Midaprk head coach Ray Hradek, whose team had put up 41 points on Bedford in the season opener.
"Then all of a sudden, when we find something that's successful, we go with it. That was important, especially with the score being as close as it was and those guys holding on to the ball and running as much clock as they could.
"We decided to just keep solid with the run. We do like to throw it, though, because we've got some guys that can catch it," he said.
The Titans had the lead on a pair of 1-yard sneaks by quarterback Nick Gassman in the first quarter. The first was set up by a Lakewood fumble inside the 10, and the other on a long punt return to deep inside Ranger territory.
A 93-yard kickoff return by Goolsby, his second of the young season, and the Rangers' ball control offense had kept the game close. But Epps continued to rip off big chunks of yardage with runs of 19, 13 and 19 yards, the last one putting the ball at the Lakewood 9-yard line with 1:21 left in the half.
On the next play after a timeout, Gassman fumbled the shotgun snap. He managed to recover, elude the Lakewood rush and threw into the end zone toward his 6-5 senior tight end Jaret Peterson.
Peterson, running the back side of the end zone and tightly contested, stretched out to make a one-handed grab of the ball as he fell out of bounds. The official signed touchdown as the clock showed 1:15 remaining.
Senior Connor Kahl added the conversion kick, and just like that the visitors had a 20-7 lead.
"We had a ball in our hands for a pickoff there, and that's nothing against our guy," said Lakewood head coach Mike Ribar. "And the ball was snapped over the quarterback's head, and still everything went right for them.
"So we were right there. We fumbled on our first play of the game and gave them the ball inside the 10. Then we let them run back a punt inside the 10, but it's still 13-7 with 1:15 left in the half.
"I couldn't have asked for anything more. That's a good football team over there, there's no doubt about it. But we played much better than we did last week," he said.
Despite allowing the late score, Ribar said the atmosphere in the Ranger locker room was much different than the one a week earlier in a lopsided loss at Medina.
"It was different this week at the half," Ribar said. "The boys were excited. They were pumped up. They knew they were in the game.
"And I'm not going to lie to you. At the beginning of the year, we said Berea-Midpark and Avon were going to be the two big dogs that we were going to have to really come out and play our best in order to compete.
"Our boys knew that coming out here tonight. They're ranked in the top 10 in the area, and our guys see that. They beat Bedford last week by 20, so it's not like our kids didn't know they were up against a big mountain.
"But our guys still came to play, and that's all I ask for. That's all I want out of them every day," he added.
But in the second half, Lakewood's lack of depth began to take its toll. And Epps continued to run wild, gaining 25 more yards in the Titans' first possession of the third quarter.
With 4:00 left in the quarter, senior Joe Bachie scored from seven yards out to cap a 20-play, 95-yard drive. Kahl added the kick, and the Titans had some breathing room at 27-7.
Lakewood could do little offensively as the Titan defense stepped up its game. Offensively, the Titans rolled on as Gassman hit fellow senior Brett Swinnerton on a 25-yard scoring toss. with 12 ticks left in the quarter.
"Our defense played a very, very good game," said Hradek, as his team held the Rangers to under 200 yards of offense.
"Their method of slowing the clock between their offensive plays was something new for us. Usually everybody goes so fast, and tonight we were kind of waiting around. But give credit to them for doing that.
"I know we wanted to come in and just grind it and work it. Really, it was just a matter of decisions made at certain times that caused us to basically score only 34 points," he said.
Lakewood managed to get on the board one more time as the game came to an end. Junior Maleek Mims, who ran for 41 yards on the night, took it in from five yards out on the final play of the game.
Meanwhile, the Titans ran for 236 yards and threw for another 180. Gassman, despite two first-half interceptions, completed 12 of 26 passes as he played a part in four of Berea-Midpark's five touchdowns on the night.
"I don't know what are rushing yards were tonight, but I'm sure they were pretty high," Hradek said.
"We had a couple of decisions we chose to make in regards to throwing the football where we shouldn't have thrown it. There were two interceptions, and that matters in terms of decision making.
"We'll live and learn from those things and go from there," he added.
Ribar said his Rangers continued to live and learn as well.
"All we talked about all week was finding the rat inside us. That means do whatever it takes to survive, do whatever it takes to battle," he said.
"We really thought we really, really did that in the first half. I mean, it was 20-7 , but they scored the last one with 1:15 left."
Ribar also felt his team would build on their first-half performance as they prepare for next week's game at Olmsted Falls, a 35-14 winner at Westlake Friday night.
"We bent, but didn't break," he said. "Really, we're playing 20 guys out there on the field at the most. We're scrapping, and fighting as hard as we can.
"We keep talking about Rangers, and that's how Rangers play. The boys are starting to buy in. We got better. If we can get better next week, we think we're going to be right there in the game," he concluded.
Southwestern Conference
Avon 31, Avon Lake 7
Berea-Midpark 34, Lakewood 13
Midview 43, North Olmsted 12
North Ridgeville 18, Amherst 14
Olmsted Falls 35, Westlake 14
Next Week's SWC Games
Amherst (0-2) at Midview (2-0)
Avon (2-0) at North Olmsted (1-1)
Berea-Midpark (2-0) at North Ridgeville (2-0)
Lakewood (0-2) at Olmsted Falls (2-0)
Westlake (0-2) at Avon Lake (0-2)
Follow us on Twitter @BeAFanatic and be sure to check out and like our Facebook page: BeAFanatic.com.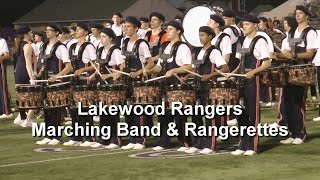 © Copyright 2010 - 2019 BeAFanatic.com All Rights Reserved.